German Gemütlichkeit –

 

Curl up, wrap up, cover up, rest up
Sophisticated Living's visionary team poured all their passion and expertise into a couch that brings out the best in design and functionality. The blanket is absolutely unique: cozy, oversized and attached to the back with straps. Lined like a bedroom blanket, it turns this piece of furniture into a snuggler's paradise. The casual, youthful design of this extra-deep lounge couch obscures the clean, timeless lines of the sofa body. Two styles packed into one sofa, personalized from a virtually limitless range of fabrics. SOLID WAVE is like no other furniture you've ever seen.  With its unique style, this couch takes a bold stance and embodies the cosmopolitan spirit of the world's trendsetters.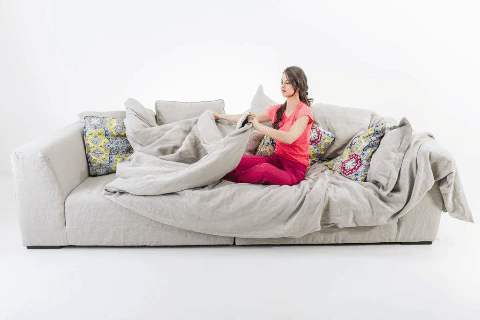 German Gemütlichkeit –  Curl up, wrap up, cover up, rest up